SacAnime wants to show our appreciation to the attendees who book a room at our sponsor hotels, by offering them a special VIP Upgrade to their weekend badges. This special upgrade comes with exclusive perks, including a special autograph session from your favorite guests, priority seating, and unique shows that only VIPs can attend. The upgrade lasts the entire weekend, so you can use it again and again!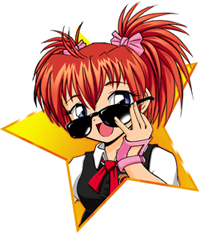 VIP Benefits:
Entry into Exclusive "VIP Only" Events, such as the special nighttime VIP Only Cafe Hoshi show, and the VIP Only Autograph Session with our Guests.
Early Entry or Priority Seating into some of our Premiere Events. We've set aside the best seats in our Main Events Room for SacAnime's VIPs.
Limited Edition SacAnime swag available only to VIP Badge Holders.
You get one VIP Upgrade per night booked. So if you book a room for three nights, you get THREE upgrades to apply to your badge and two of your friends' badges! If you book more than one room, it's still "per night", so two rooms for two nights each is FOUR upgrades!

VIP Upgrades can only be applied to Full Weekend badges. Attendees who purchase single day badges (Friday Only, Saturday Only, or Sunday Only) will not be able to upgrade those badges to VIP.

SacAnime does not condone the scalping of VIP Badges. Selling a VIP Upgrade to someone not staying in your hotel room is against SacAnime policy and may result in being banned from receiving future VIP benefits.
Here's How It Works:
If you plan to purchase your registration online, there will be a section to enter your confirmation code during checkout. (Online registration opens September 9th!)
If you plan to purchase your registration at the show, just make sure to bring a copy of your check-in or reservation receipt with you.
When you pick up your badge(s) at the convention, we will automatically upgrade it to VIP!
The deadline to book a room and get a VIP Upgrade is August 15th, 2014. We will not offer VIP Upgrades for rooms booked after that date.
"What if I pre-registered before I got my hotel room? Can I still upgrade to VIP?"
Of course! Just bring your hotel registration receipt with you when you come to pick up your badges, and we will upgrade you to VIP!
"What if I got my registration free with the Early Bird Special? Can I still upgrade to VIP?"
The free Full Weekend registrations that come with the Early Bird Special are automatically upgraded to VIP.
Note: Canceling your room before the show will also cancel your VIP upgrade or any other associated promotions, including the Early Bird free badge offer.
---
FIVE REASONS TO BOOK A ROOM AT THE SHERATON HOTEL…
VIP Upgrade! – Special Premiere Events with Priority Seating and Early Entry.
VIP Autograph Sessions – Long lines can sometimes make trying to get an autograph from our special guests a bit frustrating. Attending our VIP Only Autograph Session will give you a much better chance of getting an autograph from that special guest you've been dying to meet.
Cool Exclusives!
Less time on the road! – If you live in town and are planning on attending some of our late night events, such as the dance or VIP Cafe Show, you won't have to make that long drive home just to come back in a couple hours.
Keep an eye on your kids! – If you're a parent, you want your children to have a good time, but you want to make sure they're safe. If you book a room, your kids can have fun, but you'll be close by in case they need you.